Product: GH混合地板5.5mm-7.5mm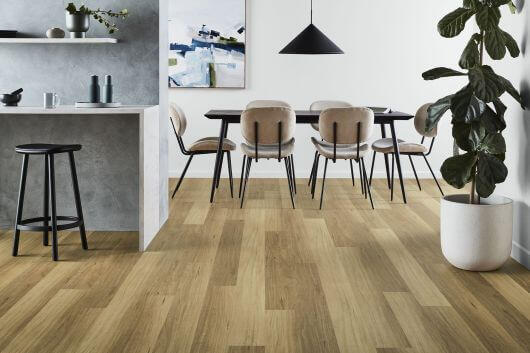 About
GH Hybrid Flooring 5.5mm-7.5mm
三大优势:
产品概述—GH混合地板是具有弹性的异质地板,具有保护性的聚氨酯表面增强(PUR)饰面,可减少初始维护和持续维护,同时提高抗划伤性。混合地板的挥发性有机化合物含量低,易于安装,并且受到Godfrey Hirst商业回收计划的支持,该计划可以在产品报废时回收使用。
GH混合地板旨在增强防滑性(通过P3 / R9分类测试的AS 4586),具耐火性(通过ISO 9239-1测试的耐火材料),可用于各种住宅和商业应用。
Achievements:
Health & Ecotoxicity
Healthy VOC levels
Low toxicity - no toxicity in use
Not ozone depleting
Corporate Social Responsibility
≥5 year warranty
All marketing environmental claims verified accurate
Building Code of Australia compliant
Complies with relevant social and environmental laws of the country of operation
Ethical supply chain
Fit for Purpose certified
Manufacturer take back policy
Manufacturer take back policy (verified)
Replacement parts available
Rating Tools
Green Star - GBCA
WELL Features - IWBI
More information:
The product is GreenTag GreenRate Level A Certified under Scheme A21.
The scope of certification covers GH Hybrid Flooring with thickness of 5.5mm-7.5mm.
The products have successfully passed the relevant GreenTag Standard's Cautionary Assessment Process and no issues of concern or red lights comments exist regarding the toxicity of the products.
---
Certified under:
Global GreenTag Standard v4.0
Rating tools relevance:
GreenStar 'Design and As Built v1.3' and 'Interiors v1.3' Rating Tools Credits:
o Sustainable Products Level A
GreenStar ' Performance v1.2' Rating Tools Credits:
o Procurement and Purchasing: Refurbishment Materials
WELL v1.0 Features - IWBI:
o Feature 04: VOC Reduction
您能怎么使用GreenTag绿色标牌?
生产商
使您的产品脱颖而出,消除打开主要市场的障碍。
获得GreenTag绿色标牌的认证,让您的产品作为行业佼佼者脱颖而出,与普通产品区分开,在迅速扩张的绿色市场中赢得胜利。
绿色消费者
创建您 自己的健康,可持续的家居,室内设计和生活方式。
了解我们在美容与个人产品,清洁和建筑与室内行业取得的成就,或了解更多关于GreenTag绿色标牌的信息。
GreenTag绿色标牌认证产品通过世界上最严格的标准,以保护您和您的家人的健康和安全,减少对我们的的影响,把选择的力量放在你的手中。
专业人士
节省时间和金钱,选择能够保护您的业务免受风险的产品。
了解GreenTag 绿色标牌认证产品如何通过世界上最严格的健康,生态性能和安全标准。
通过主要绿色评级方案认可,GreenTag绿色标牌是您选择或证明产品选择的一站式认证。