Product: Kingspan 受控环境面板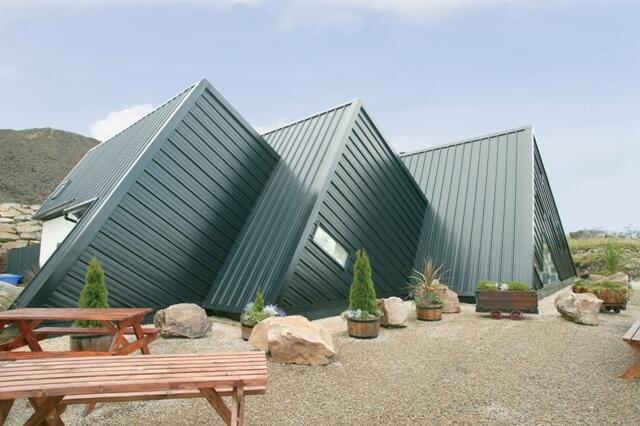 About
Kingspan Controlled Environment  Panels
三大优势:
产品概述— 预涂的镀锌钢板的板构造不含ODP,Kingspan Polyisocyanurate(PIR)绝缘核心,拥有未加工的外观和内饰的颜色,轮廓和热力性规范。
相比行业标准覆盖系统,Kingspan受控环境面板增加覆盖宽度,以此提供减少圈,修理和结构以及潜在的成本节约,和减少安装时间的好处。
面板产于澳大利亚,Kingspan制造厂通过ISO 9001认证,拥有ISO 14001 EMS和ISO 18001 H&S认证(正在实施)。
Achievements:
Health & Ecotoxicity
Healthy VOC levels
Low toxicity - no toxicity in use
LCA
Life Cycle Analysis - Water
Water footprint available
Life Cycle Analysis - Resources
Designed for recycling or reuse
Life Cycle Analysis - Greenhouse Gas
Carbon footprint available
Corporate Social Responsibility
≥10 year warranty
All marketing environmental claims verified accurate
Certified Environmental Management System
Complies with relevant social and environmental laws of the country of operation
Environmental Management System
Fit for Purpose certified
Replacement parts available
Australian Made
Assembled in Australia from majority imported components
Ratings Tools
Green Star AU - GBCA
IS Rating - ISCA
Construction Code Compliance
Australian NCC Materials Requirement Conformant
More information:
The product is GreenTag GreenRate Level A Certified under Scheme A7.
The scope of certification includes KS1100/1200CS Coldstore Panel, KS1100/1200RL Roofliner Panel and KS1100KP Karrier Wall Panel.
The products have successfully passed the relevant GreenTag Standard's Cautionary Assessment Process and no issues of concern or red lights comments exist regarding the toxicity of the products.
---
Certified under:
Global GreenTag Standard v4.0
Rating tools relevance:
Green Star® "Buildings" v1.0 Rating tool:
• Credit 7: Responsible Envelope
• Credit 9: Responsible Finishes
Green Star® "Design & As Built v1.3" and "Interiors v1.3" Rating Tools Credits:
• Sustainable Products
Green Star® "Railway Stations v1.0" Rating Tool:
• Sustainable Products
Green Star® "Performance 1.2" Rating Tools Credit:
• Credit 21: Procurement & Purchasing (Consumable Materials | Refurbishment Materials)
IWBI® WELL v1.0 Features:
Compliant Technical Document (Audited) for Feature/s:
• Feature 04 (Part 4)
IWBI® WELL v2.0 Features (PHD™ Available):
Compliant Technical Document (Audited) for Feature/s:
• X06 (Part 2)
IS® v1.2:
• Mat-2 Environmentally Labelled Products and Supply Chain
IS® Design & As-Built v2.1:
• Rso-7 Sustainability Labelled Products and Supply Chains
LEED® v4.0 and v4.1 Rating Tool Credit (PHD™ Available):
MR Credit: Building Product Disclosure and Optimisation - Material Ingredients
• Option 1: Material Ingredient Reporting and,
• Option 2: International ACP - REACH Optimization
Earthcheck Rating Tool:
• Sustainable Materials
LOTUS New Construction V3:
• MR-2 Sustainable Materials
GreenTech Malaysia's MyHIJAU Ecolabelling and Green Products Database:
• All Green Building and Interiors Products
您能怎么使用GreenTag绿色标牌?
生产商
使您的产品脱颖而出,消除打开主要市场的障碍。
获得GreenTag绿色标牌的认证,让您的产品作为行业佼佼者脱颖而出,与普通产品区分开,在迅速扩张的绿色市场中赢得胜利。
绿色消费者
创建您 自己的健康,可持续的家居,室内设计和生活方式。
了解我们在美容与个人产品,清洁和建筑与室内行业取得的成就,或了解更多关于GreenTag绿色标牌的信息。
GreenTag绿色标牌认证产品通过世界上最严格的标准,以保护您和您的家人的健康和安全,减少对我们的的影响,把选择的力量放在你的手中。
专业人士
节省时间和金钱,选择能够保护您的业务免受风险的产品。
了解GreenTag 绿色标牌认证产品如何通过世界上最严格的健康,生态性能和安全标准。
通过主要绿色评级方案认可,GreenTag绿色标牌是您选择或证明产品选择的一站式认证。